Ride into the future of WordPress with Ollie.
Start launching blazing-fast, pixel-perfect websites with the WordPress Site Editor and the Ollie WordPress block theme.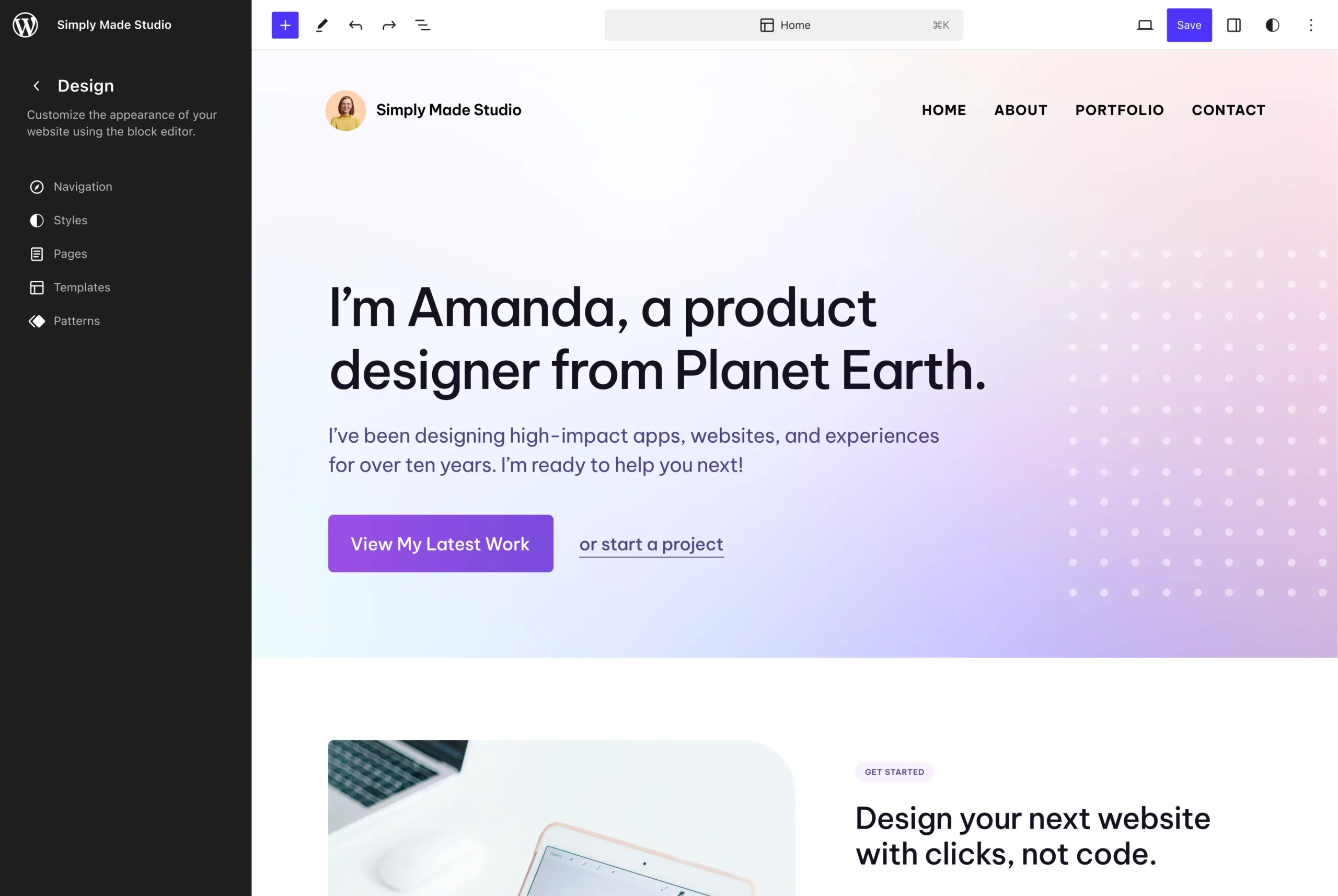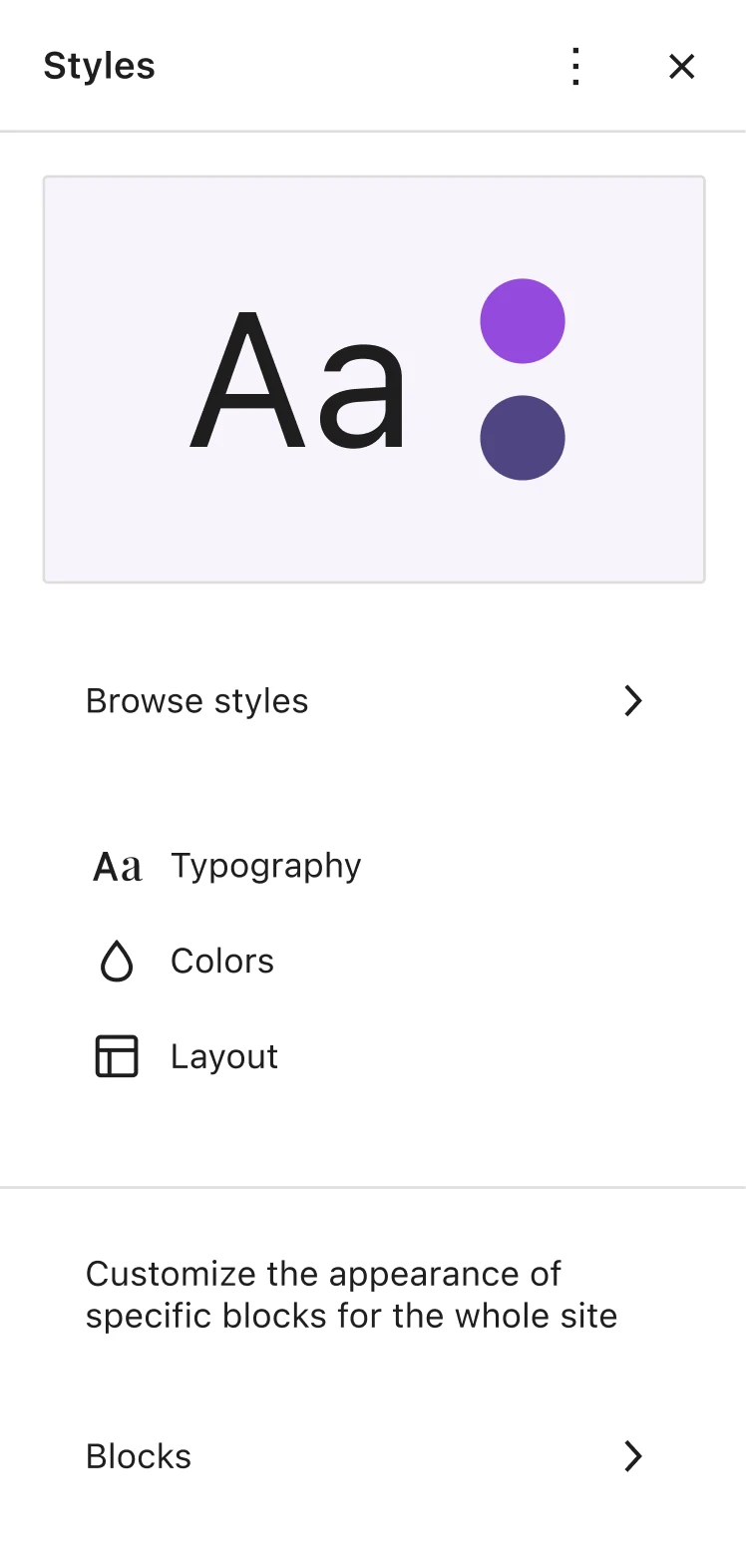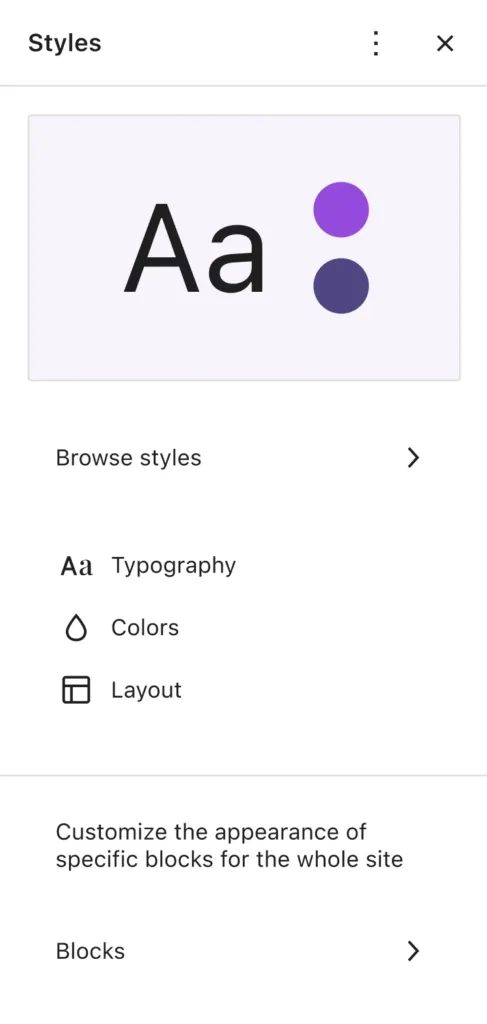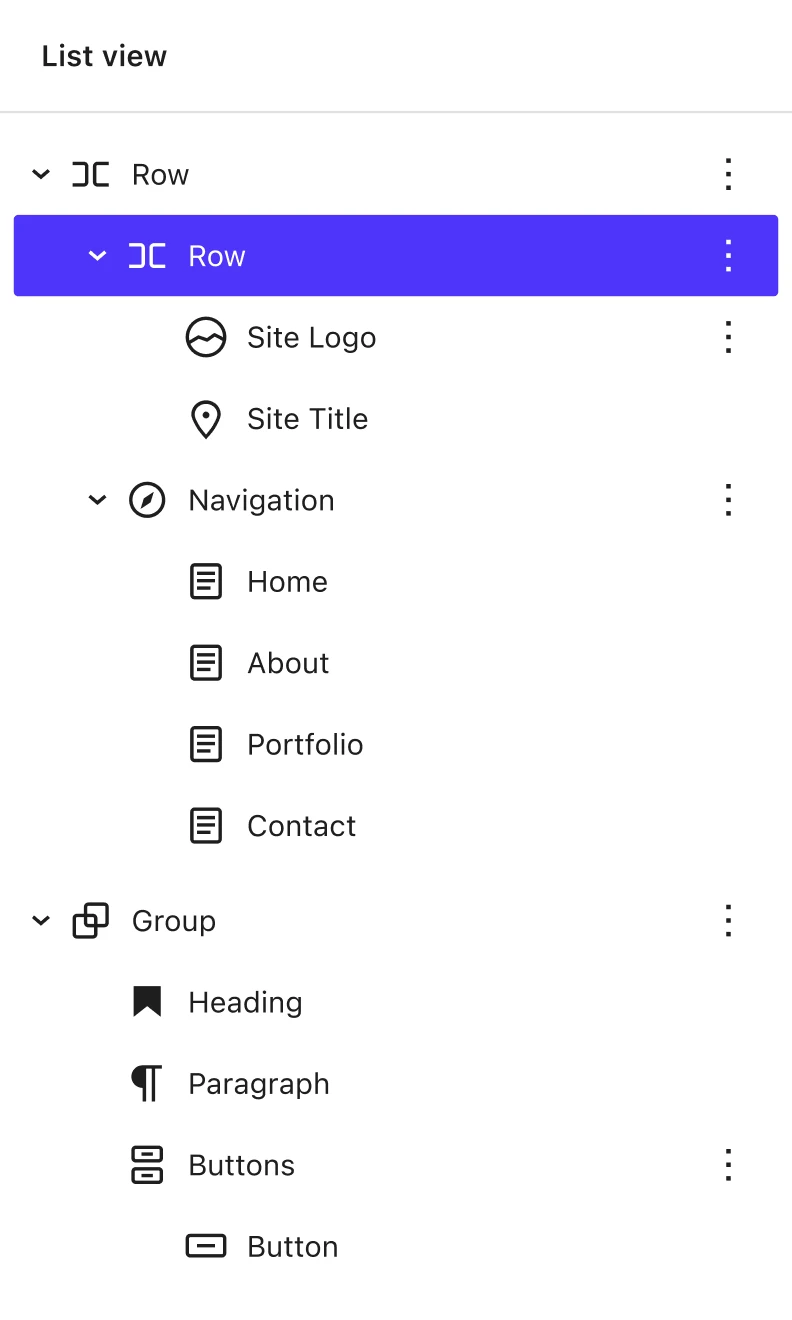 All the powerful features of a page builder — without one.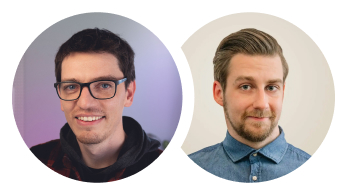 Hand-crafted by veteran WordPress creators and all-around friendly folks, Mike McAlister and Patrick Posner.
Gone are the days of needing an expensive or bloated page builder plugin for WordPress. With powerful new features like the Site Editor, Patterns, and Global Styles, WordPress is now the most powerful page builder on the planet — and it's free.
The only thing is, you need a WordPress block theme like Ollie to tap into these incredible features. Ollie integrates seamlessly with the Site Editor, unlocking a level of design customization you never thought possible in WordPress.
Ollie is the start of a new era of WordPress. It's a new way to design, it's a new way to build, it's a new way to publish. It's the future, and you can start building with it today.
Ollie Setup Wizard
The Ollie Setup Wizard is a one-of-a-kind experience crafted to help you go from a blank canvas to a beautiful, ready to customize website with just a few clicks.
Ollie Dashboard
We've built an entire dashboard around the Ollie experience. Access docs, a video library, and the site wizard right from within your WordPress dashboard.
Site Editor
Design and launch your entire site with the new WordPress Site Editor interface — a blazing-fast drag-and-drop site builder that ships free with WordPress.
Pattern Designs
Ollie ships with a collection of 50+ pixel-perfect pattern designs that you can use to quickly design page sections and full-page layouts. Patterns make design fun!
Global Styles
You can easily change the styles of individual blocks or make site-wide style changes to your site's colors, typography, layouts, and more with Global Styles.
Build With Blocks
WordPress ships with dozens of powerful content blocks like columns, galleries, containers, and more that help you build expressive and cohesive designs.
Design stunning websites with Ollie patterns
Ollie ships with over 50 beautifully-designed and easily-editable WordPress pattern designs for quick page building.
Design with patterns
Patterns are a collection of pre-designed blocks that you can customize with your own content to quickly design pages. Ollie ships with a ton of patterns and full page layouts.
Scales to all devices
Ollie's patterns are thoughtfully designed with a fluid design system, meaning your website's typography and spacing will automatically scale down gracefully to fit your visitor's device.
WORDPRESS SITE EDITOR
Now, every page is a page builder in WordPress
With the WordPress Block Editor and Site Editor, you can build your entire website with expressive content blocks. Modify pages, templates, and patterns all from within the sleek Site Editor interface.
Still intimidated by the Site Editor? Fear not, we've made an entire Builder Academy video tutorial series to help you learn, build, and launch with it.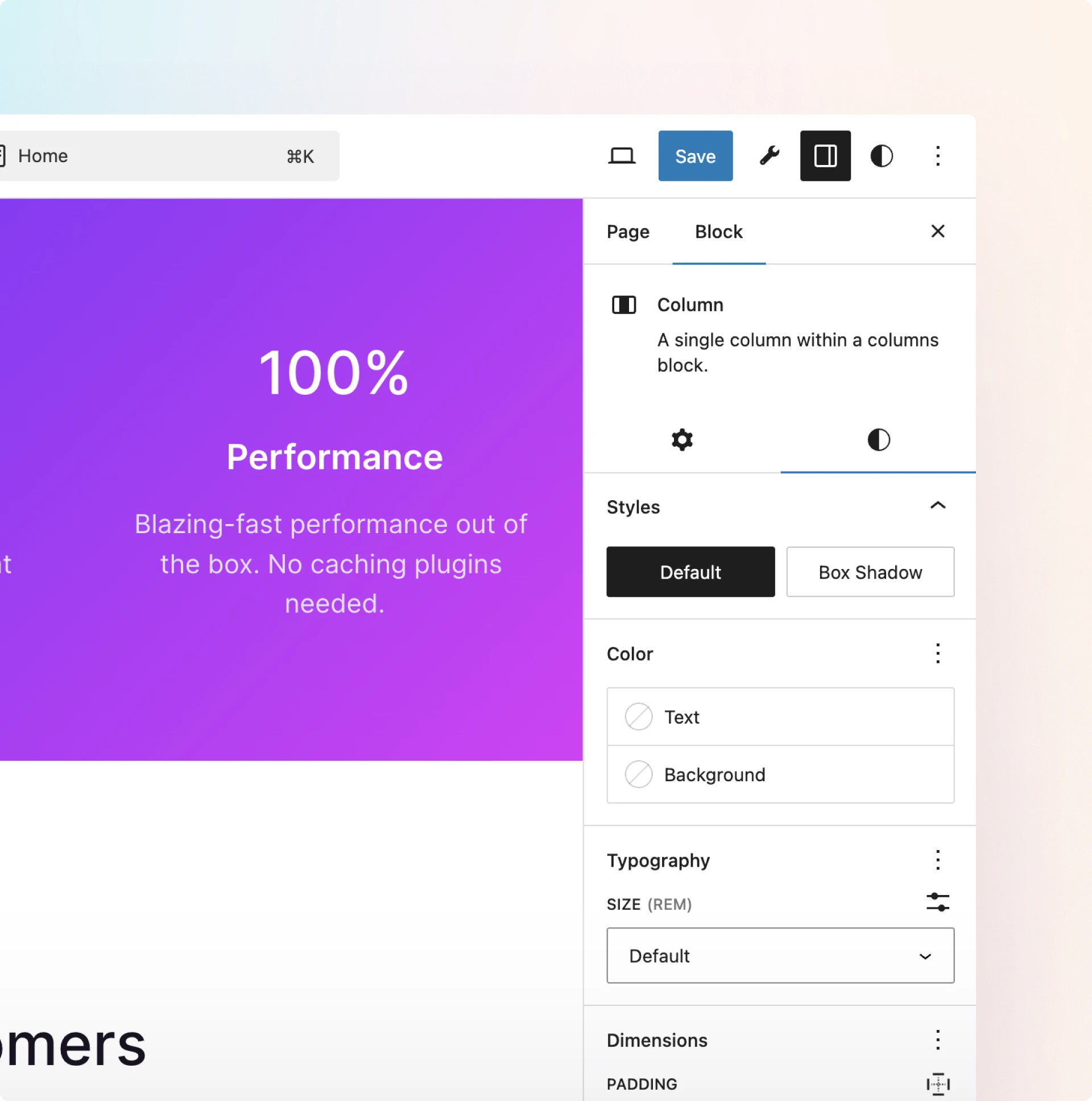 OLLIE PATTERNS
Design is a breeze with pixel-perfect patterns
Not a designer? Not a problem. With Ollie's growing collection of beautiful and responsive pattern designs, you can design page sections or full-pages by simply dragging and dropping patterns into place.
Add a pattern, customize the content, and hit the Publish button. It's really that simple.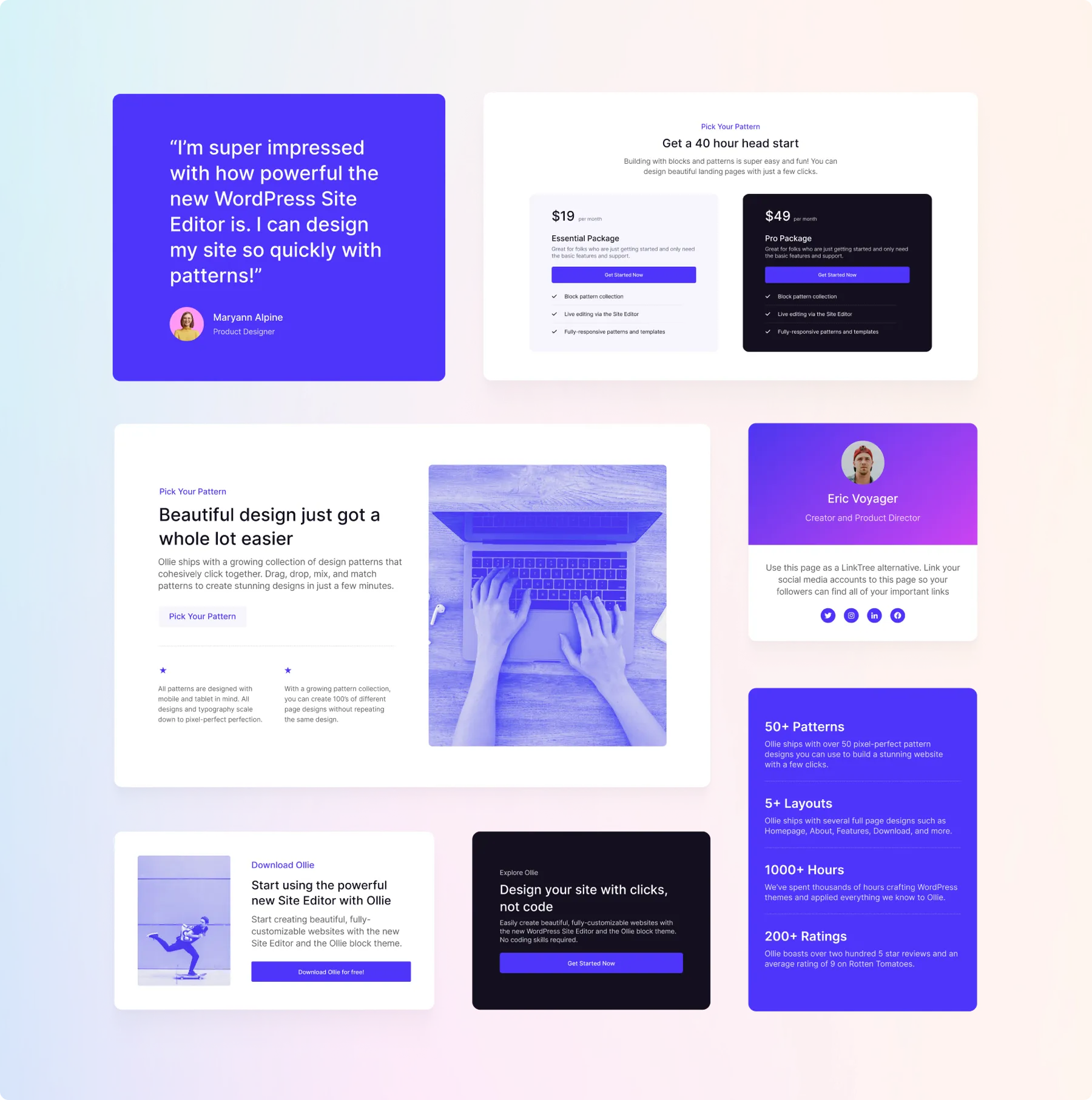 OLLIE SITE WIZARD
Behold the magic powers of the Ollie Site Wizard
You know all those annoying steps we have to do every time we set up a new site? What if we could just skip that and save, like, an hour of turmoil on every site? Well, now we can.
The Ollie Setup Wizard is a step-by-step guide to help you change common settings, set up your branding, and create pages automatically, and more. You get a beautiful, responsive website ready to customize in just a few minutes.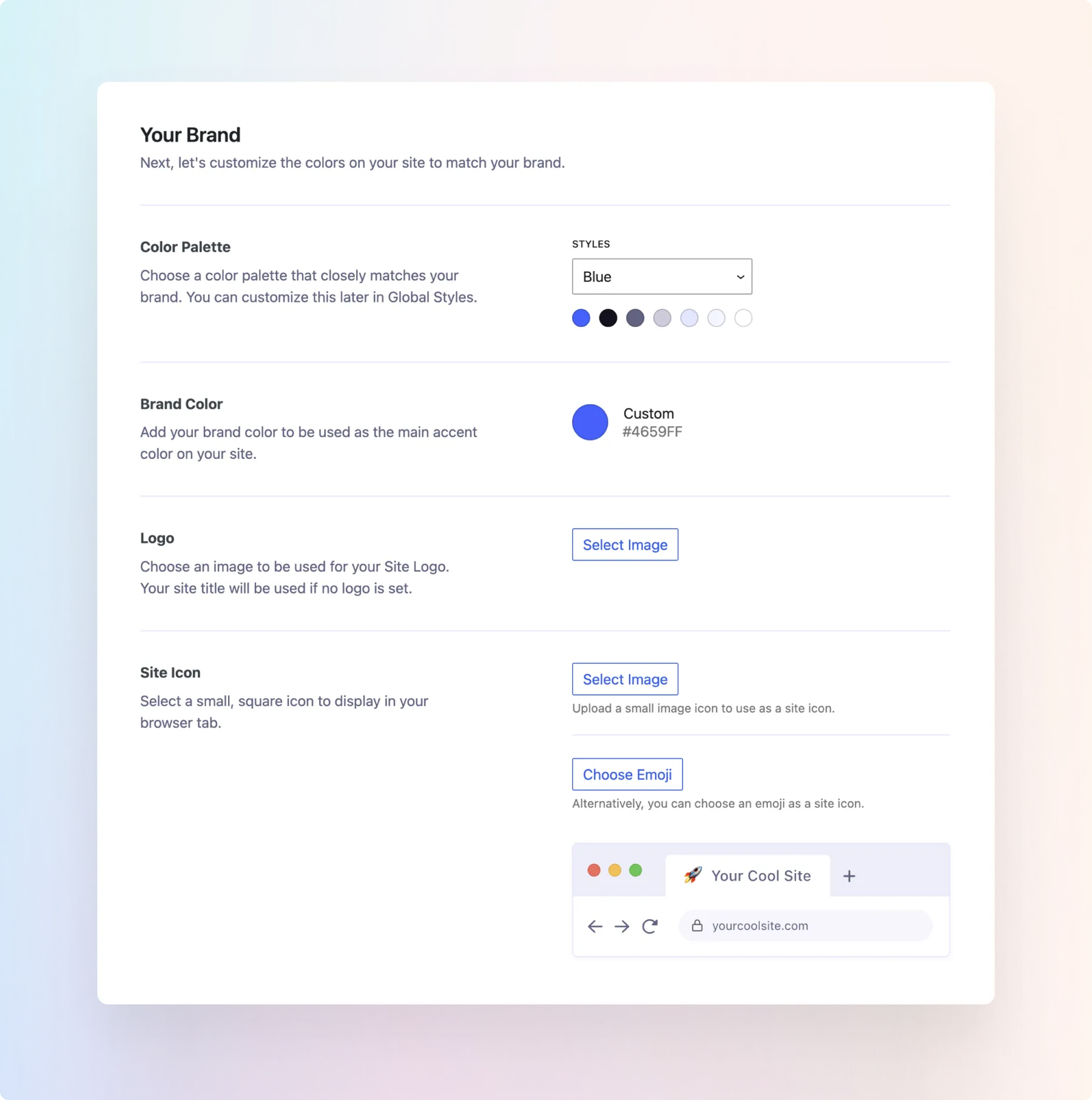 Keep it 100 with Ollie
This thing isn't just easy on the eyes. It's also blazing fast and built to modern web standards.
Performance
Search engines don't love slow websites. Ollie is blazing fast and loads instantly for your visitors.
SEO
Good SEO is good business. Ollie provides a rock solid foundation for good SEO hierarchy.
Best Practices
We take care of all the nitty gritty best practices under the hood so you can design + launch quicker.
Accessibility
Websites should be accessible to everyone. Ollie is built with strong accessibility standards for all.
No caching? No problem.
A fast WordPress website shouldn't require a handful of caching and performance plugins. Ollie is super lightweight and works seamlessly with the zippy WordPress page builder.
Smart asset loading
Instead of loading bulky scripts and styles on each page load, Ollie only loads the critical assets needed for each page. We focus on performance so you can focus on going live.
Start building your next website today, for free
There are a few ways to get started with Ollie. Download a good ol' fashioned zip or explore the theme on Github.
Download Ollie from WordPress.org
You can install Ollie from your WordPress dashboard or by downloading the zip directly from WordPress.org.
Explore Ollie's code and download on Github
Want to learn a little about block themes? Look through the Ollie source code and contribute feedback or bug fixes on Github.
Preview the Ollie theme and try out the editor
Give Ollie a spin by checking out the Ollie demo site. You can also try out the editor by spinning up your own live demo.
Go even bigger with Ollie Pro
More patterns, more templates, advanced blocks, and a suite of professional publishing features at your fingertips. That's Ollie Pro, and it's on its way to your WordPress site.