There's a lot going on in the Ollie ecosystem right now. We're nearing the public release of Ollie on WordPress.org, we're working on a few killer features for the upcoming Ollie Pro package, and we've just launched a brand new website to house all of this new awesomeness.
Let's dive in and see how this new site came together and what it means for the Ollie brand.
Using Ollie to build… Ollie
If you're new around here, let's just have a quick reminder of what this whole Ollie thing is about. Ollie is a WordPress block theme, which means it ties into all of the powerful new features like the WordPress site editor, patterns, global styles, and more.
The theme is fully-customizable from within WordPress, and you don't have to write any code. You just design your site with blocks, patterns, and global styles right inside WordPress. The Ollie theme provides a great foundation for you to do this, giving you a pixel-perfect design system (of sorts) so you can focus on your content and getting your site live.
So it was a no-brainer to use Ollie to build the new Ollie site. It gave us a huge head start, cutting down a dozen hours that we would normally spend setting up the base styles and functionality of a new site. Not anymore! We just installed Ollie and got to work.
A homepage that educates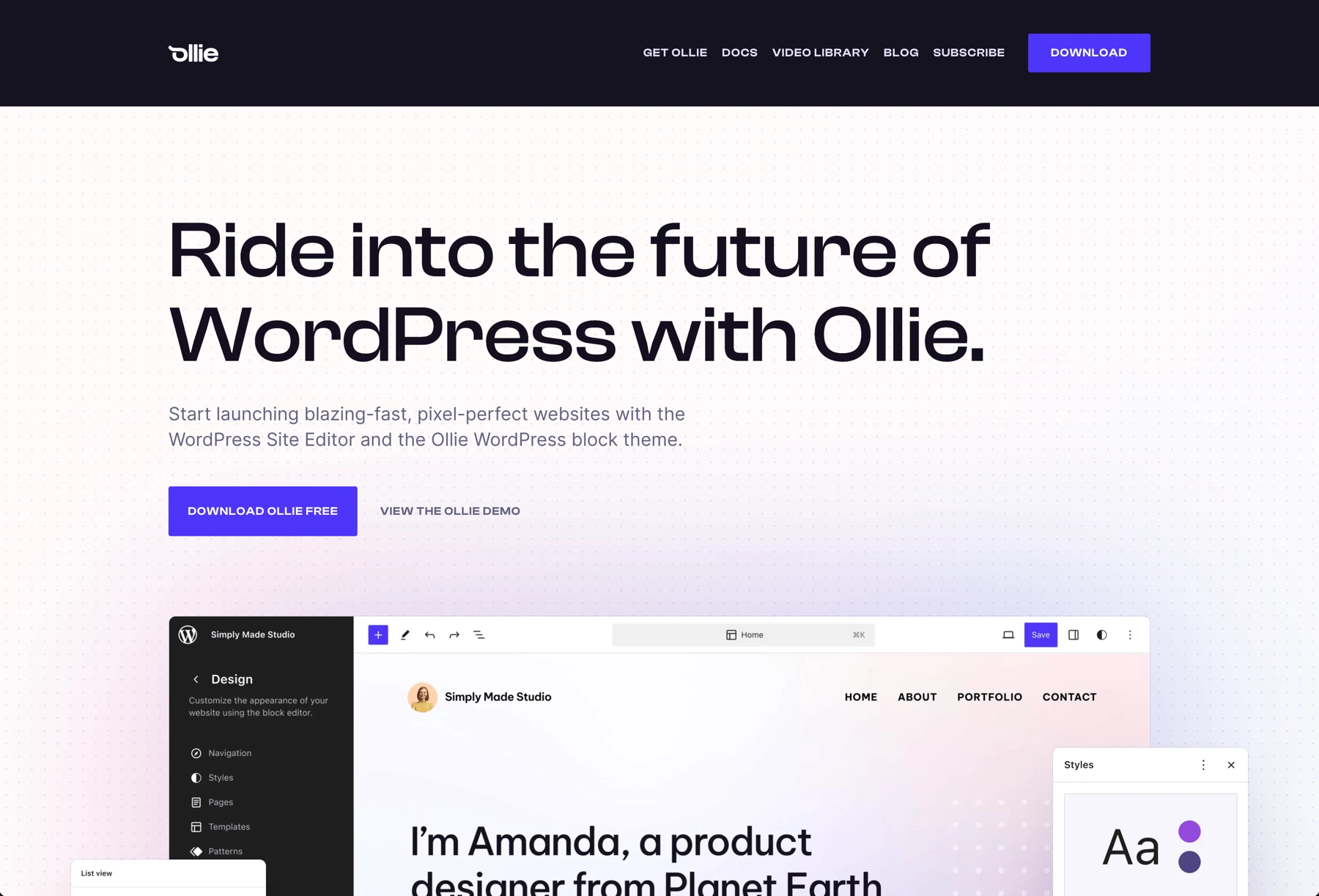 Although the WordPress block editor has been around for several years now, people are still getting familiar with the suite of full-site editing tools like the site editor, global styles, and patterns. It's a lot to learn, and we're still ironing out the kinks to get it all working together harmoniously.
That also means we need a lot more education. People are only going to learn this stuff if we're helping them along. For this reason, the Ollie homepage isn't just designed to showcase Ollie. Instead, it's largely dedicated to showcasing WordPress.
Sure, Ollie is doing a lot of really cool things, but really, the power of Ollie is owed to the power of WordPress. Ollie just ties into all of these powerful new features in a seamless way. But in order to get people excited about it, they need to understand these features and how they can benefit from them. So Ollie isn't just a WordPress block theme. It's also an educational resource and a good bit of marketing for what's possible in WordPress these days.
Speaking of educational resources, we've got a brand new video library!
Ollie Builder Academy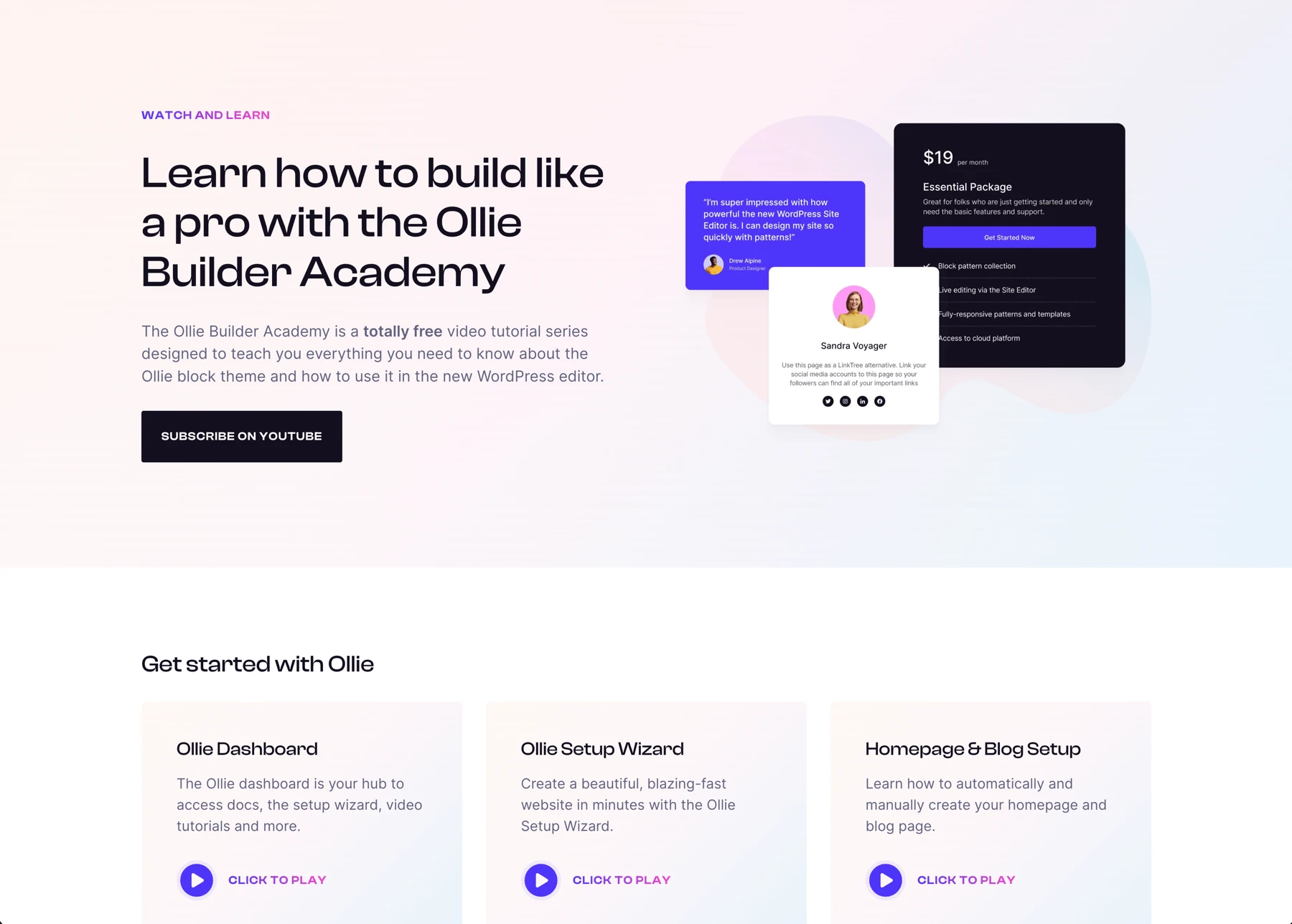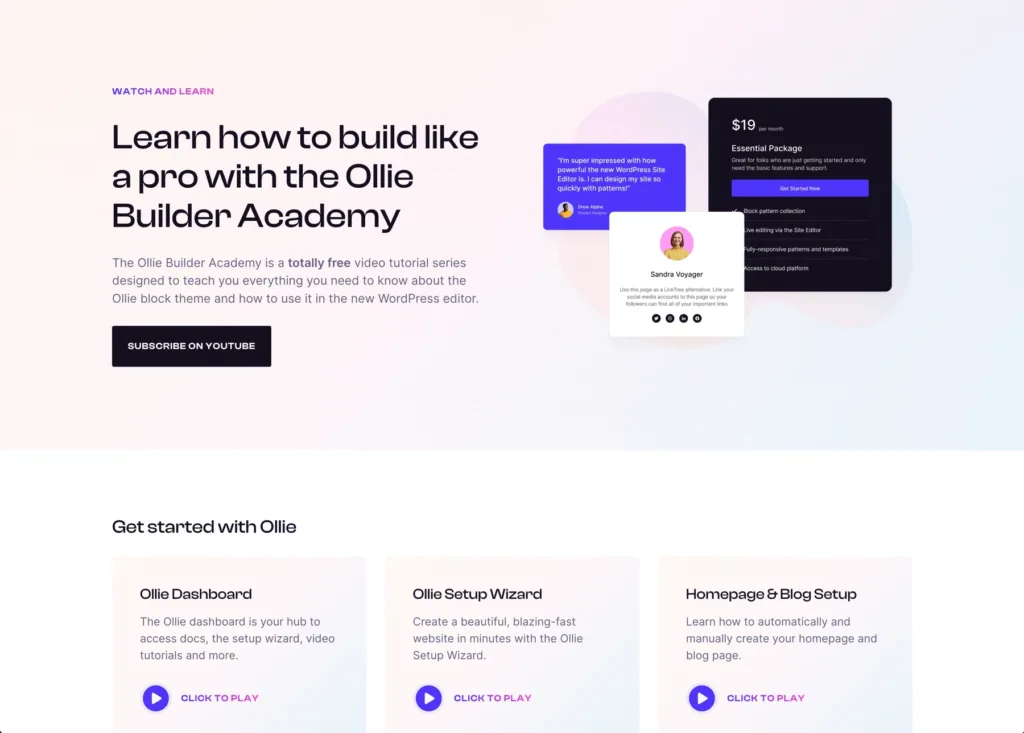 The Ollie Builder Academy is a totally free video tutorial series designed to teach you everything you need to know about the Ollie block theme and how to use it in the new WordPress editor.
This series covers everything from setting up a block theme, creating and working with patterns, customizing your site with global styles, and much more. You can find these videos on the Video Library page, but we've also built it right into the Ollie theme dashboard so you can learn without leaving your site.
To see videos as they're released, you can also subscribe to the Ollie YouTube channel where these videos are published regularly.
The power of patterns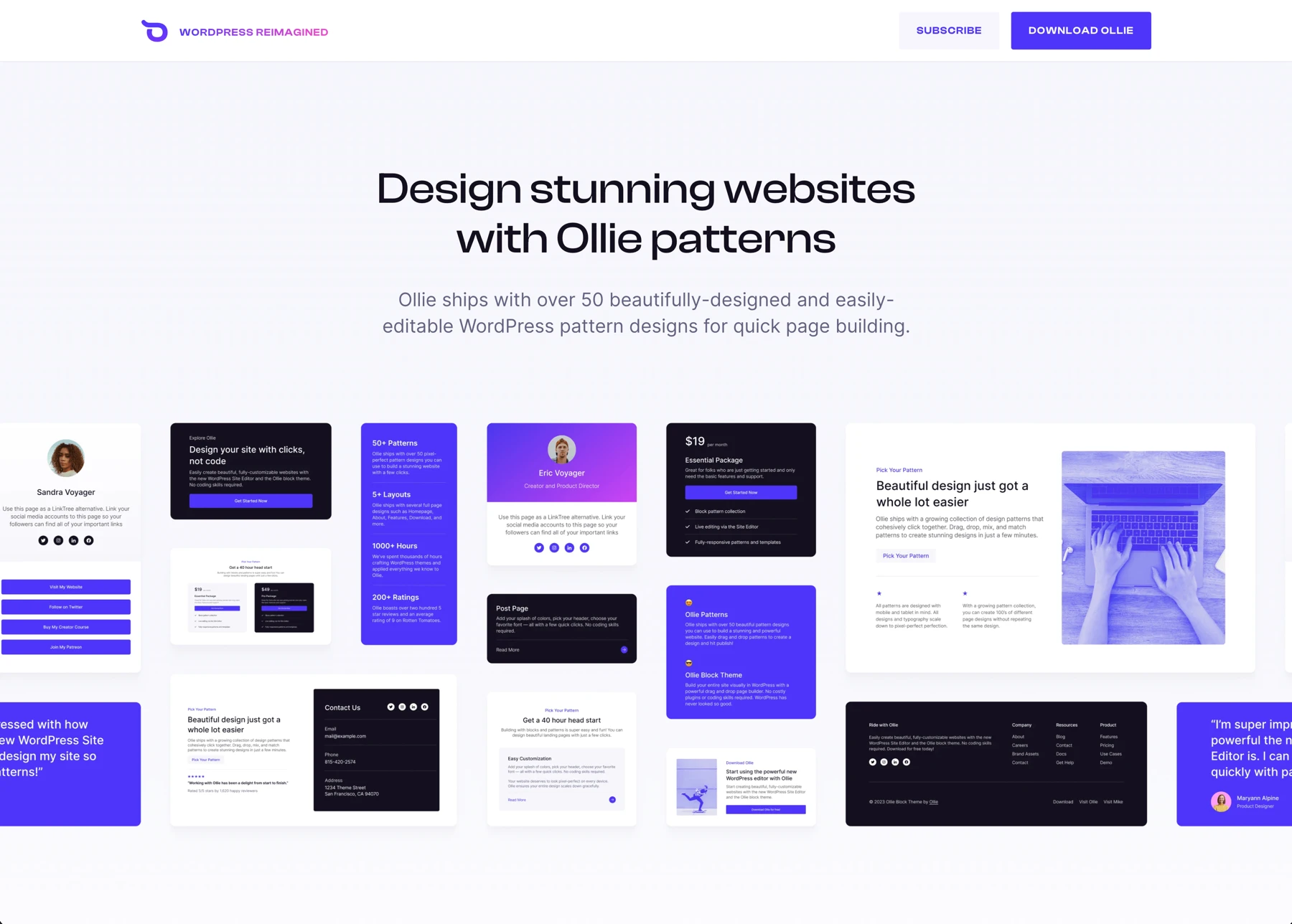 I'm a huge fan of WordPress patterns. I love creating them and I love creating with them. When you have a collection of well-made patterns at your fingertips, you can design pages in WordPress so quickly. They're pre-designed, the typography, margins, paddings, and spacing are all responsive, and with Ollie, all the patterns are designed as a cohesive collection. That means you can design pages very quickly because the patterns just click together nicely.
I leaned extensively on the Ollie pattern library while building out the new Ollie site. When I needed text boxes, I had several to styles to choose from. When I needed call to action boxes, I was able to add one to the page, change the color, and move on to the next thing. I only needed to create a few unique patterns for the new site because Ollie covered most of my needs.
And with synced patterns, I was able to keep various sections of the site in sync and have one singular place to update them. This was helpful for things like email subscription boxes and the sticky nav bar.
Building with a block theme
Building a block theme like Ollie and subsequently building several websites with said block theme has been an illuminating experience. I'm not going to say block themes are any easier to create than classic WordPress themes — they're not. At least not if you want to do it supremely well, which is how I roll.
It takes a lot of tinkering and nudging to get all the styles and features hooked up in theme.json and get them all working harmoniously in the many contexts of the block editor. And just like classic WordPress themes, there are just a lot of views, pages, and edge cases to consider. People use WordPress in wild ways you would never imagine, and ultimately, you have to try and accommodate that.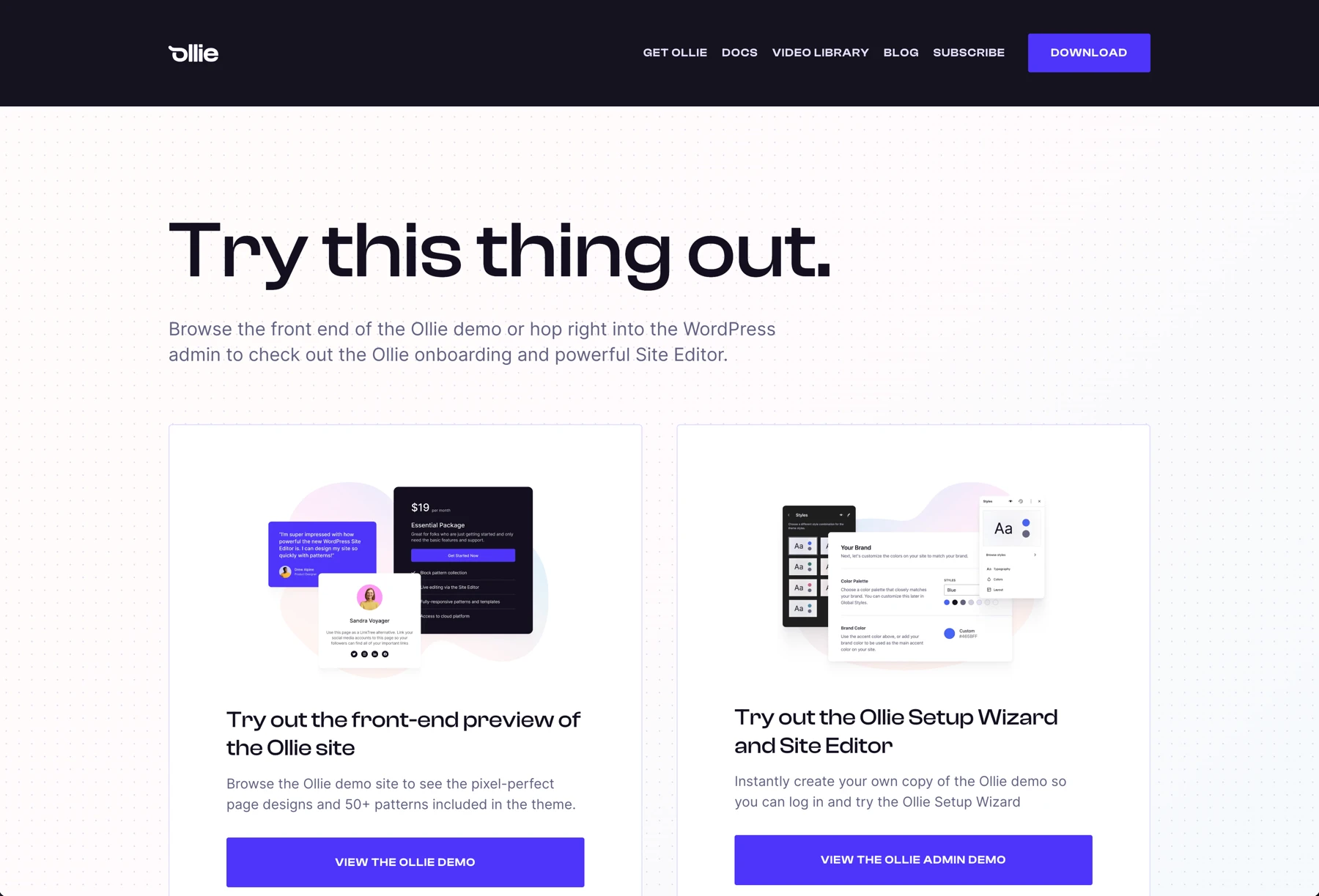 That being said, once you've got a block theme all wired up and humming along, building out sites with a block theme is a much better experience than we've ever had in WordPress. There's a level of freedom and flexibility that we've just never had, and it takes a little bit to get used to.
Once you get the hang of it, there's really no reason to look back. You can do everything you used to do in WordPress, but better and faster. You get all of the power and independence that WordPress has always had, but now we have access to a game-changing content and site editor. And it's still free and open source.
Although I don't think page builder plugins will disappear overnight, I do think they will be phased out as the site editor gets better over time. They were built to fill a void in WordPress, but now that void is closing up and being replaced with a highly-performant and native solution. That will be hard to compete with in the long haul.
More room to groove
With this new redesign, we've got a solid foundation to build out the next phase of Ollie — going public with Ollie on WordPress.org and launching Ollie Pro.
You'll be able to install the Ollie block theme from within your WordPress admin very soon. This has been quite the journey getting this theme ready for public release and through the WordPress.org review process. It's worthy of it's own blog post!
With Ollie Pro, we're going to take site building and publishing tools to a whole new level within the new WordPress site editor. Because we don't have to reinvent the wheel with a page builder (we get that for free in WordPress!), we can focus on solving other problems for builders. And soon, we'll preview a few of those features. 😎
Wrapping up
I had a ton of fun designing and building out this new site. There are a lot of little details tucked into the site, and I hope you find and enjoy them. Let me know what you think of the site (and if you find any quirks)!